The Star Savers Club is a fun and engaging way for children to learn the value of money and the importance of saving it. Whether it's quarters from the Tooth Fairy, birthday cash, or their allowance; the Star Savers Club is a great tool to help your child learn money management skills.
Help your child develop short-term saving habits for an opportunity to pick something cool from Twinkle's Toy Box, or save up their tickets for bigger prizes. Get them excited about saving by becoming a part of the First Peoples Community Federal Credit Union Star Savers Club!
Membership Requirements:
Ages 12 & Under

$5 Opening Deposit

The Star Savers Club aims to teach kids how to save, and being part of the deposit process can be an important learning tool. Therefore, children must be present at the time of the deposit in order to collect virtual tickets and redeem prizes.
Membership Benefits:
Every time you make a deposit of $5 (dollars):
Receive one (1) virtual ticket with every five dollars deposited.
Collect tickets to redeem for cool prizes!
Tickets can be redeemed in increments of 1, 10, & 20.
All Star Savers earn 1.25% APY* 
*APY=Annual Percentage Yield. Programs, rates, terms and conditions are subject to change without notice. $5 minimum opening deposit. Dividends earned on balances over $5. Dividends compounded daily and deposited monthly.
Learning to Save
Learning to save means learning to spend less.

Dropping pennies in a piggy bank is a good start, but the money in it does not earn dividends. So, if you put in $100, you get out $100, no matter how long the money is there.

When you put $5 in your Star Savers Club account, you will earn dividends. A dividend is the amount of money we pay you over time for keeping your money at the credit union.
Financial Education
First Peoples is excited to offer our members access to FREE financial education, for all ages!  Learn more about our fun, interactive, and educational tools available through Banzai!
Our most recent Star Savers winners!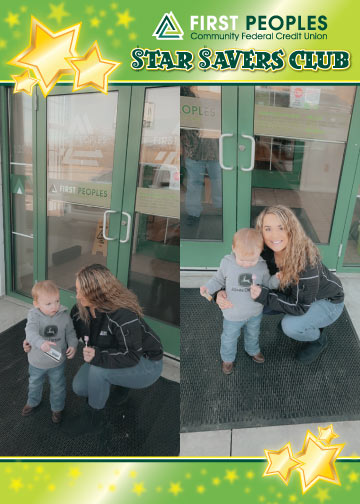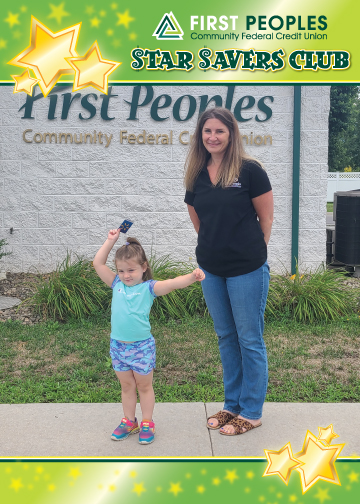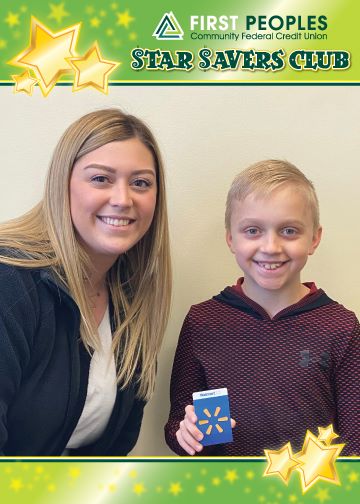 First Peoples Community Federal Credit Union is a full-service financial institution with branches in Maryland, Pennsylvania and West Virginia.